Nur Englisch
In Übersetzung
Derzeit steht diese Seite nur in Englisch zur Verfügung. Wir arbeiten aktiv an der Übersetzung der gesamten Webseite. Vielen Dank für Ihre Geduld.
Here's your daily devotional!
If you wish to receive these free devotionals every weekday by E-mail, click the button below. Note: you'll have to log in or create your membership account first. Membership in the League is free. Join now!
Sign up to receive the Daily Devotional
"The First Step is a Big One"
Acts 9:6
"Now get up and go into the city, and you will be told what you must do."
Thoughts for Today:
The Lord's first word of instruction to Saul was -- "Now." I think this is really significant because the timing of when we choose to take the first step (the beginning point of following the Lord's direction) -- has a lot to do with the impact that a conversion experience will have upon us. The danger is that the longer we wait the less motivated we become. We can begin to rationalize, for example: "He didn't really mean now, there's a lot of loose ends I need to tie up first." We might even look for an alternative explanation "Maybe that wasn't the Lord I met. Maybe the light was lightning and the voice was just thunder." Whatever the situation, the decision of when to get started is always -- "now."

The Lord's next words, "get up and go... and you will be told what you must do," should be underlined and highlighted in all of our Bibles for they are the key to understanding the concepts of discipleship, faith, and righteousness. These concepts can appear difficult and complicated. However, they are really very simple when expressed as: "get up and go... and you will be told what you must do." The complications jump in when we think too much. Too often we want more control and greater detail, for example "Where exactly do you want me to go?', "What exactly do you want me to do when I get there?" or "What should I take with me -- do I need to pickup something on the way?"

In the military, one of the purposes of boot camp is to prepare independent young men and women to take orders without question or explanation. On the battlefield if the sergeant yells "hit the ground" a new recruit might get killed by enemy fire if he or she pauses to ask for more information of what ground to hit, or a more detailed explanation of the danger. The same can be true for us as we face the trials and tribulations of the spiritual boot camp we call life -- do we hesitate or obey? All too often we look back at an event and say "It would have turned out so much better if I had only listened to the Lord!"
Questions to Ponder:
When the Lord says, "Get up and go," how do you respond? How do you express in your life the concepts of discipleship, faith, and righteousness? Faith is doing something even though you don't know how it will turn out. When was the last time you stepped out in faith? Are you willing to follow the Lord right now, and then wait for His next instruction?
Sign up to receive the Daily Devotional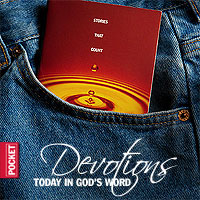 There's nothing like God's Word to create purpose in your life that lasts the entire day and beyond. We encourage you to Read, Carry and Share the Word of God. Pocket Devotions are sent by E-mail every weekday (Monday to Friday). On weekends we encourage you to be creative and study on your own in any area of Scripture where God leads you.
You can start from Day 1 at any time. Messages are sent automatically. Subscribe now! You may unsubscribe at any time.
About the author
Pocket Devotions are written by Mike Brooks. A retired businessman, he is Moderator of South Shores church, leads the Deacon Board, serves on the finance committee, and he teaches a Men's Bible study and the Men's Ministry. Mike has a passion for evangelical missions. He is the husband of Sherry; the father of Ryan, Natalie, Krissy, Rebecca, and Amanda; the father-in-law of Ariel; and the grandfather of Conner and Christian.