Nur Englisch
In Übersetzung
Derzeit steht diese Seite nur in Englisch zur Verfügung. Wir arbeiten aktiv an der Übersetzung der gesamten Webseite. Vielen Dank für Ihre Geduld.
Here's your daily devotional!
If you wish to receive these free devotionals every weekday by E-mail, click the button below. Note: you'll have to log in or create your membership account first. Membership in the League is free. Join now!
Sign up to receive the Daily Devotional
""Bruised and Battered""
Ephesians 2:5
...made us alive with Christ even when we were dead in transgressions—it is by grace you have been saved.
Thoughts for Today:
A few weekends ago, my thirteen year old daughter Amanda and my grandsons went skateboarding in our neighborhood. An hour or so later they showed up with Amanda near tears, knees scraped and bleeding, and dirt covering her body. Without hesitation, I gave her a big hug. No lecture, no reminders about the dangers of skateboarding, no questions, and no worries about the dirt and blood from her injuries rubbing off on my clean clothes. Just a giant hug of love. Then I took her in the house to bandage her up.

As I read our passage today, the Lord reminded me of this somewhat ordinary event in life. One that Amanda has probably forgotten by now. (After all, we didn't end up in the emergency room.) And the same can be said for us. God doesn't just love us when we go to church. When our clothes and our lives are spotless and obedient. Or when we studiously read our Bible and make attempts to be holy and spiritual. He loved us first -- when we were at our worst -- stinky, bloody, dirty, bruised and battered. He loved us when we were dead in our sin. And sometimes we have a tendency to forget just how great and deep God's love is for us.

Notice also that Paul emphasizes the fact: "it is by grace you have been saved." The comparison he makes is between death and life. Think about it like this, a dead person can't help themselves -- they can't talk, move, or respond in any way. Why? Because there is no life. On the other hand, through God's grace, humanity continues to given another chance at life. This is an act of God's grace which is independent of any effort on our own part -- salvation is a work of God through Christ alone. (Romans 11:6: "And if by grace, then it cannot be based on works; if it were, grace would no longer be grace.")
Questions to Ponder:
God gave us Christ's life when we were dead in sin. He didn't give us a big lecture about our sin and He didn't make us pay first for our transgressions. He simply embraced and loved us in our filthy condition. Some of us as parents might be able to understand God's grace because of the love we have for our own children. Yet even our finest moments pale in comparison to God's great love for us. Take a moment now to thank God for His mercy and love shown to us in Christ Jesus. Praise Him!
Sign up to receive the Daily Devotional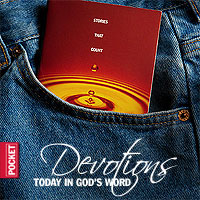 There's nothing like God's Word to create purpose in your life that lasts the entire day and beyond. We encourage you to Read, Carry and Share the Word of God. Pocket Devotions are sent by E-mail every weekday (Monday to Friday). On weekends we encourage you to be creative and study on your own in any area of Scripture where God leads you.
You can start from Day 1 at any time. Messages are sent automatically. Subscribe now! You may unsubscribe at any time.
About the author
Pocket Devotions are written by Mike Brooks. A retired businessman, he is Moderator of South Shores church, leads the Deacon Board, serves on the finance committee, and he teaches a Men's Bible study and the Men's Ministry. Mike has a passion for evangelical missions. He is the husband of Sherry; the father of Ryan, Natalie, Krissy, Rebecca, and Amanda; the father-in-law of Ariel; and the grandfather of Conner and Christian.